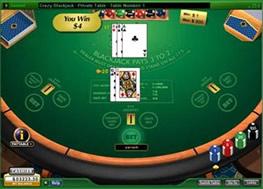 Like Classic BlackJack, the objective of Crazy BlackJack is to accumulate cards with a higher numerical total than the dealer without exceeding 21.On top of placing a regular bet, Crazy BlackJack offers a
Safe Bet, Highest Hand Bet
and
777 Jackpot Bet.
Crazy BlackJack online side bets
In Crazy BlackJack, you play against the dealer at a private, multi-hand table. You have the option to place three different side bets before you are dealt your initial hand of two cards.
Type of Bet
Explanation
Payout
Regular BlackJack
Bet
You must place this bet in
order to place side bets.
BlackJack: 3 to 2

Winning hand: 1 to 1

Insurance: 2 to 1
Safe Bet
Place this bet if you think your first two cards will have a low value of 12, 13, 14, 15 or 16 and will not contain an Ace or two cards of the same value. This gives you a winning chance even if you have low cards.

This bet may be placed on up to three hands simultaneously.
3 to 2
Highest Hand Bet
This bet is available only if you are playing two or more hands simultaneously. Place this bet on the initial hand that you predict will have the highest value.


Two-hand game:
1 to 1
Three-hand game:
2 to 1

If BlackJack is dealt:
Two-hand game:
2 to 1
Three-hand game:
7 to 2
777 Jackpot Bet
Place this €1 bet if you think your initial hand will be two Sevens. You must hit and get another Seven to win. If you get three Spade Sevens the jackpot increases significantly.

This bet may be placed on up to three hands simultaneously.

Once this bet has been placed and the first two cards are both 7s, the "Hold" and "Split" options are disabled.
Any 3 Sevens will win you 1,500 (in your currency). 


3 Spade Sevens will win you 30,000 (in your currency).
"Double Down": A player may select the "Double" option after being dealt two cards. The Double option automatically doubles the player's bet and deals one additional card, face up. The player cannot draw any additional cards. The player may double down on any first dealt two cards or after splitting a pair.

"Split": If the player is dealt any pair of cards, on the first two cards (i.e., two Fives, two Jacks, etc.), they may split the cards into two separate hands. The split option automatically places an additional bet, equal to the original wager. Each hand is then played independently, and the player may take as many Hits as desired on each hand (with the exception of Aces, which receive one additional card only, per hand). In the case of split Aces, a player's classic BlackJack is not possible and is considered as a regular 21. In this case, a dealer's classic BlackJack wins, and a dealer's 21 becomes a "Push".

"Insurance": If the dealer shows an Ace, the player has the option of making an "Insurance Bet". This equals half the original bet, and ensures that the player will not lose their wager should the dealer be concealing a 10 or face card under their Ace. If, in fact, the dealer's down card is equal to 10, the player wins the Insurance Bet at odds of 2-1. If the dealer's down card has a value of less than 10, the player loses the Insurance Bet and continues normally with the hand.
Tour of the Crazy BlackJack table
Step 1: Place your bets.
Click on the numbered areas in sequence to place your bets.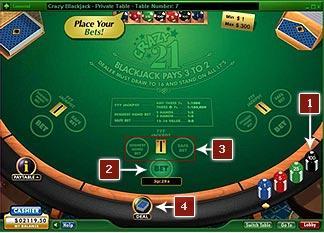 Choose your chip value.
Place a regular BlackJack bet.
Place side bets.
Deal the cards
Each click on the betting icons adds another chip. You may change the chip value as you bet. To decrease or remove a bet, right-click on the chips you wish to eliminate. Once you click on Deal, your bets may not be changed.
In order to place side bets you must also place a regular BlackJack bet.
Step 2: The deal.
You are dealt two cards face up and the dealer is dealt one card face up and one card face down. Crazy BlackJack is played with four decks of cards which are shuffled after every round.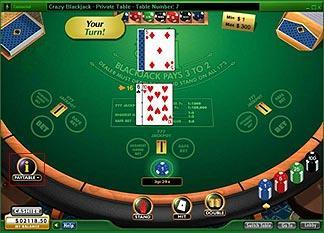 Click on this button to view the pay table.
Card Values:
Two to Ten = face value
King, Queen, Jack = 10
Ace = 1 or 11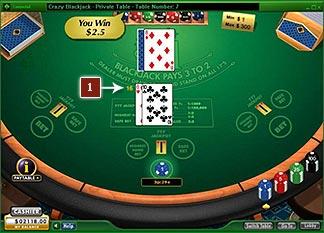 Step 3: Collect Safe and Highest Hand Bet winnings.
Winnings are immediately credited to your bankroll.
This is the value of your cards.
Step 4: Make your move.
This is when you decide if you are satisfied with your hand or if you want more cards. You can be dealt as many cards as you want until you feel you are close enough to 21.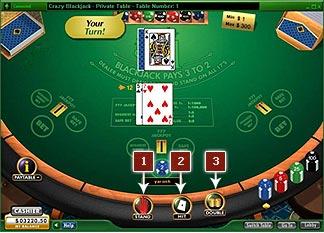 Click on one of the options below to make your move.
You do not want any more cards.
You want another card.
You want another card and you want to double your bet.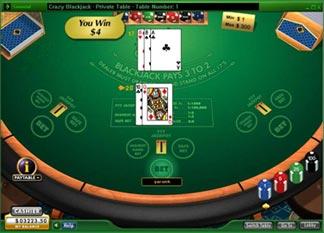 Step 5: The dealer completes the hand.
Once you are satisfied with your cards, the dealer completes his hand. If he has 16 or less, according to Crazy BlackJack rules he must draw another card. If he draws 17 or more, he must stand.
If you win the hand, your winnings are immediately credited to your bankroll. The 777 Jackpot Bet winnings are also awarded at this time.
Notes:
In the event that you are unable to click on Deal at an online BlackJack table due to a disconnection, the Disconnection Policy applies.
If you place a Highest Hand Bet and there is a tie between two initial hands, the dealer collects your bet.
If you place a side bet that does not pay out, the dealer collects your side bet.
If you receive an initial hand of any two Sevens and the dealer receives BlackJack, you will not be awarded the payout for the 777 Jackpot Bet.
The betting limits may change according to casino policy.
More about BlackJack