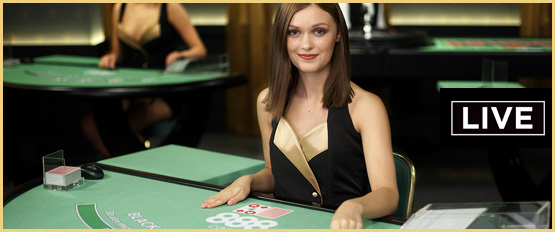 Blackjack ranks among the world's favourite casino card games. This exciting attraction requires players to simply beat the dealer's hand total, without going bust. The magic number is 21, but any hand total greater than that of the dealer will do. Blackjack is an easy game to learn and a challenging game to master. Here at Casino-on-Net you will enjoy all the convenience and excitement of Live Blackjack. Our live dealer casino is the crème de la crème; come and experience it for yourself.
Play Live Blackjack at Casino-on-Net
Quality is at the heart of all our Live Blackjack tables. We've got gorgeous, professional and experienced blackjack dealers to assist you in every way possible. Once you've chosen your preferred live blackjack table, the dealer will shuffle the cards and deal them in real-time. All of the action is streamed to you live, and all the outcomes are governed by lady luck alone. Our blackjack dealers operate with the highest levels of integrity, so you can rest assured that you will be enjoying the very best blackjack games possible.

If you're curious about the rules of the game, specific blackjack tactics and strategies – feel free to ask the Live Blackjack dealer. With the basics out of the way, get ready to experience a VIP Live Blackjack game like never before with Casino-on-Net.
How to Play Live Blackjack
Live Blackjack is an easy game to play. Beginners and experienced professionals can enjoy this game right here at Casino-on-Net. As one of the few casino games that requires skill and strategy, it's good to know that you can practice blackjack for free before you play for real. The objective of the game is simple: beat the dealer's hand total, without exceeding 21. To do this, you have many options available to you.

The dealer will deal one card to each player face up, as well as himself/herself. Next, all players will receive a second card face up, but the dealers second card will remain face down. Players have several options available to them at this point. These include the following:
Hit – take another card
Stand – don't take another card
Double – take another card and double your bet
Split – split a pair
Take out Insurance – if the player thinks the dealer has blackjack
According to the rules of blackjack, cards have the following values: Aces can either be 1 or 11, cards 2 – 10 have their nominal value and face cards (Jack, Queen and King) are valued at 10. Blackjack is achieved when an Ace and a 10-value card combine with just two cards. Note that players can continue to hit until such time as they wish to stand. The goal of course is simply to beat the dealer's hand total. Once all the betting action has been completed, the dealer will reveal his/her hand. The highest permissible hand total wins. Note that in blackjack games, the dealer typically draws to 16 and stands on all 17s (hard and soft). Blackjack pays out at 3 to 2, but sometimes the payout may be 6 to 5 at certain tables.
Strategy for Live Blackjack
Blackjack strategy charts are a great way to boost your blackjack prowess. The game relies on a combination of skill, strategy and good fortune. Players don't know what the dealer is holding, hence the goal is to try and anticipate possibilities. Strategy charts provide many useful betting options for players, depending on what cards the player is holding and what the dealer's upcard is. Live Blackjack is much the same as a real blackjack game that you would play in a casino; everything takes place in real-time with a real dealer. A combination of basic blackjack strategy, bankroll management and good fortune will go a long way towards maximising your game. Players can also use advantage play (memory methodology) to assist them in their blackjack strategy by keeping a running count of cards dealt.
Live Blackjack History
Blackjack has its origins in 17th century France. The game was initially known as 21, and its popularity exploded when it reached the shores of North America. Many references were made to Blackjack in Spanish literature, including Don Quixote. In the USA, black jack was offered as a novel game where players were required to form a hand consisting of a black Jack (spades or clubs) and an Ace of spades.

In the late 1990s online casinos began offering blackjack games. This broke the monopoly that land-based casinos had on the game, by offering Blackjack to a large global audience. Online casino blackjack is similar in most respects to the land-based equivalent, save for the fact that random number generators determine the outcomes of cards dealt.

Live Blackjack is relatively new entrant to the online gaming arena. This highly sophisticated medium requires state-of-the-art technology, secure gaming facilities and uninterrupted Internet accessibility. Casino-on-Net provides players with all of the above in a user-friendly gaming platform.
Tips for Live Blackjack
Blackjack aficionados urge players to practice as many games of blackjack online for free as possible. This allows you to fine-tune your skills in anticipation of real money gaming. The gaming platform at Casino-on-Net makes it possible for players to practice the game, at zero risk. Other tips include reading blackjack strategy guides, articles, and following the sensible advice of blackjack experts. Of course, as with all casino games, it is imperative that players enjoy the game responsibly. Try to find blackjack tables where the minimum betting requirement is at most 5% of your allotted bankroll. That way you can play the game for longer, without decimating your bankroll in double-quick time. As a rule, hit when your hand total is less than 17 and stand when your hand total is 11 and the dealer is holding either a four, five or six upcard. Try not to split on fives or tens, and always split sevens, or eights when the dealer's upcard is the same/lesser value. An understanding of Blackjack lingo will assist you in live blackjack games too.